How to start blog writing? The first question comes to our minds: A blog can be beneficial for personal and for brand business. Writing a blog is an excellent expression of your thinking and it can also make your online presence visible. It helps you in connecting with the audience and also become a source of passive income. I personally think, writing a blog is a wonderful expression of your underlying thoughts, making them revealed via words. It will automatically leave the remaining good.
In this article, I will try my best to guide you in a comprehensive way on how to start blog writing. Which eventually becomes helpful in writing a demanding blog. We will discuss what things are important and what steps are considerable for writing an effective blog. Here we will mention how a niche can be selected? How to set up a blogging platform, publication of content and promotion of your blog, and much more.
How to start a blog in easy 8 steps:
Thinking of starting a blog, here I am helping you step by step .it will not only help you in engaging an online audience but also prove a medium of passive income.
Choose the niche for your blog: Go for something that you're passionate about. Ideally, it should be a topic that will interest others as well.

Get web hosting and a domain name: Purchase hosting that best suits your budget and needs. Then, come up with a custom name for your domain, check its availability, and register it through a domain registrar.

Set up a platform for your blog: Choose a platform and set it up so you can start publishing content.

Create your blog with WordPress: We have chosen this platform as it is the most popular one.

Design and customize your blog: Change its design and functionality to your liking.

Publish content: Familiarize yourself with the available publishing tools and start planning, writing, and posting articles on your blog.

Promote and grow the following of your blog: Strategize and execute ways to promote your blog to increase its traffic and gain loyal readers.

Monetize your blog: Once you have sizable traffic and readership, implement methods like ads and affiliate marketing.
1. Selection of niche for your blog
Selection of niche is the foremost thing to do in blog writing, it will give direction and build your focus on one selected topic. This will also help you in targeting a specific audience. Moreover, it will also help you in picking up blog names and directed you to focus on your blogging strategy.
For example, A blog niche may be writing about Books, Travel, Food, Fashion, Technology photography, and many more things in demand.
The temptation may be a point of covering a broad range of topics when you are at the initial stage of selecting one niche. It is obviously seen, that trying to master every subject skillfully is difficult and unmanageable. Maybe initially you cover up a few topics efficiently but that might result in form of a scattered audience. It will suggest relay and maintaining leadership. So, it is important to get stick to the niche which increases your devoted following. The only dedicated audience will wait and appreciate your upcoming content, this will boost your blog stream and bring organic traffic. For selecting a perfect niche, the following things must be in your mind.
Pick a niche you are passionate about
Writing about a topic which is according to your interest is more fulfilling and enjoyable than about that in which you have less interest, in a simple way the things which make you happy will be discussed more and you will try your best to tell about them instead those who you don't like or have less interest and information.

Picking a niche has more potential
There must be pre-existing interest in things or topics which you are going to write about. For this, you have an opportunity of using Google trends, which will show you the search volume of that specific keyword which are related to your niche. This will help you in finding the mindset and interest of the audience about what they are talking about in the community and on different social media platforms.

Perfection is not needed initially
If you are an expert in something it will automatically add authority to it, but it is not much important initially. for example; If you are interested in photography but you are not an expert at a high level don't need to bother, you can simply take a start which will be added later by interviewing some expert. This adds an authority value to your blog.
2. Getting web hosting and domain name
The next step is to start preparing your website for the blog. Following two steps would be in your mind when you are thinking of purchasing Webhosting and domain names for your website blog.
Web-Hosting:
Web hosting is a service allowing you to publish a website and all files on which you have worked. It makes them visible to people online. ''purchasing hosting is simply like you rent server space from a hosting provider" it will give you access to a specific allocation of resources that are in need to build a blog and run it. The most famous company which offered its hosting service is HOSTINGER.
It commonly offers two types of plans:
SHARED HOSTING:
This is the most affordable type of hosting. In this type, users have the facility of using one server for multiple websites. It is excellent for beginner and its most probably cost start from $1.99/month.
WORDPRESS HOSTING:
This shared type of hosting will optimize WordPress websites. If you have the intention to use this plan it is an excellent choice for your small blog. Its cost starts from $1.99/month.
Hostinger gives 24/7 live support with an SSL certificate along with 30-days money-back guarantee.
Expert tips:
The things to remember about the host are…
It must be convenient by clicking one or two-button.
It must be speedy only in that case your site loads faster and will help in ranking in catching traffic.
It will be having support, it means when in trouble there is always support that awaits you.
After hosting set up the next step is taking the domain name.
A domain name is what visitors have to enter in the search bar to find your site. For exp; technopixelss.com is a domain name.
For securing a custom domain name you can purchase it from the Domain registrar of your choice. Some web hosting companies also offer double as a domain registrar. It is the facility to purchase domains and host them under one roof.
If you have a planning of one-year hosting or more Hostinger offers you a free domain name for one year as well. While selecting a domain name try to keep it similar to your blog name. For this, you can take help from our domain checker.
3. Setting up a blogging platform
The step after choosing a domain name is setting the blogging platform on which your blog will run.
Here arise two options;
Hosted
Self-hosted
Whatever platform you chose it is necessary to know the difference between them.
Hosted platforms usually offer all tools which important for writing a blog, there is no need of purchasing a separate domain and hosting.
Exp; of hosting platforms is website builders like ZYRO, SQUARESPACE, WORDPRESS.com, and WEEBLY.
Don't confuse wordpress.com with self-hosted wordpress.org.
Here are mentioned some advantages and disadvantages of hosted platforms and website builders.
Advantages of website builder:
Quickness in setup: Setup usually offers all website building solutions. They provide hosting and domain collectively.
Beginner-friendly: Hosted platforms are beginner-friendly and easy to use, even a beginner can complete them in one attempt. You can publish your blog yourself without any help with a few clicks.
Dedication for support: Hosted platforms offer dedicated support to its user. You can contact them via mail, live, chat, or on phone.
Maintenance-free: In this platform, your only focus will be on publication and promoting your blog, The backup, and security are handled by them.
Disadvantages:
Limited control: For this platform, u must obey some rules and restrictions complete control of your site and hosting resources is not possible.
Limited ownership: In this offer, your blog and all its content are stored at a server platform you don't have full control over them.
Rigid: In this type, you are not easily moved from one platform to other. They are working only on closed –the source system. The templates and odd-ones are limited conditional to what service officially they offer. In this way, you have to remark the website from scratch.
Difficulty in scaling; Hosted platforms are usually used for personal blogging. They are not designed to handle multiple websites.
Finally, if you have decided on a self-hosted blog then you will have purchased domain hosting separately. Examples of self–hosted platforms are DRUPAL, JOOMLA, and WordPress.org.
The content management system (CMS) is a software offering you to build a website .you have control to manage it through a graphic interface that enables the user to build a website without having to code from scratch.
Here are the pros and cons of a self-hosted platform or CMS
Pros:
In this, you are unable to adjust settings and can manage the sources of hosting. It entirely depends on the hosting type you have chosen.
1. Endless seeming customization: A self-hosted platform is a blessing with offers of endless use of themes and plug-ins from the official directory or sourced from a third party.
2. Full ownership: The space provided in this hosting type is as much wide as you fully own your blog and all its content.
3. Scale building: One of the best available advantages of self-hosting is, that you can sustain any size of the website as long as you can. Your hosting provider will give you sufficient wide resources.
Cons:
1. Steeper learning curve; Although a self-hosted platform is much easier than hand-coding a website from scratch. Yet, it still needs some technical knowledge compared to the website builders.
2. Set–up time needed: Self-hosted platforms need some time to follow some extra steps like buying web hosting, registration of the domain, and installation of platform software.
3.NO support: In most self-hosted platforms no customer support is provided. Yet WordPress as being the most popular one to support its customer. Many hosting provider companies also provide CMS (content management support).
Here is a question if you have a small website with limited content like an online portfolio then using the hosted platform is a better option. On the other hand, If your blog has a lot of content and you also excepting to grow, then self–hosted platform will be log time solution to the procuring problem.
If you have decided in favor of self –hosted platform then the right choice of hosting company and plan is very essential. Following things keep in mind while selecting, it must belong to a reputable company.
It comes under your budget.                       
It offers high uptime security and a guarantee of technology.
It must have all the features you need.
Hostinger is one of the best choices available in the market. If you are in search of reliable web hosting. They also offer CMS–optimized solutions at attractive prices. They provide layered protection against Dodos attack and a 99.9%uptime guarantee. Their hosting plans began from $1.99/month.
4. Creation of blog with WordPress
There are an existing number of blogging platforms that offer services but here I am suggesting starting up a blog with WordPress self–hosted CMS. So, here we are gonna discuss how you can start a WordPress blog?. Word press has one of the best CMS with an excellent platform to build a blog even though it has the capability of empowering any kind of website yet it was firstly designed for blogging only. That's why it has a number of tools and features relating to the blog.  WordPress has a steeper learning curve which enables users to learn quickly to become bloggers firstly. If you get in touch with WordPress hands-on experience it will become much easy to manage on daily basis. The first step is installing word press on your blog site. This can be done by auto-installer provided by your hosting company through the control panel.
The first step is to install WordPress on your blog site using the auto-installer provided by your hosting provider through the control panel.
Here's how to do it on Hostinger's CPanel:
Navigate to Website -> Auto Installer.
Under WordPress, click Select.
A new window will pop up. Fill in the form with the correct details:
Check whether your domain name is correct.
Type in the Administrator Username, Password, and Email. This login information will be used to access your WordPress dashboard or admin area.
Enter your Website Title. The blog name is usually written here. It can be changed later from the Site Identity settings on the WordPress dashboard.
Choose your preferred language.
Select Always update to the latest available version to get the latest features and security patches.
4. Select Install.
5. Publishing of content and growing of blog
After completing the installation login into your WordPress domain area. Here you can make changes as you wish to the new blog. This screen will only focus on, how you can design and customize a self-hosted WordPress blog? It is relating how you can cover WordPress themes and customization them. Here, you will go over plugins along with the setting of pages as you want in the blog it would be.
Picking a blog theme: A theme is an originally pre-made design template for a WordPress site that has to be customized further. WordPress library offers both free and premium options along with third-party sources like theme forest. Approximately 8.400+are available in WordPress official directory.
In the premium theme, you are expecting to get access to dedicated support. Which include regular updates and premium plugins? A Free WordPress theme may be sufficient for some successful blogs, but these are supported less. Premium will add value to your purchase. When looking for the best theme following things must be in your mind.
Pricing: If you have made up your mind about a premium theme compare it with others available at the same price.
Appropriate design: The design should according to your blog content size when doubt arises give priority to a simple one. Always give priority to simple ones it will elevate your blog entries.
Features: Make sure all desired features are present in themes like drag and drop builder, customer support, and pre-made layouts.

Responsive: Always prefer to use a responsive theme that freely accommodates any size, because most of the traffic came from mobile.
User Review: Before buying make it clear by reviews whether it has a better user experience or not.

After installing a theme from word press directory you have to log in to the dashboard and then navigate to appearance->theme-> Add New. SO, here you can select whatever theme you want and click on install, when installation is complete activate it .for installing a theme from a third-party source, select upload themes. Upload the zip file of the theme and then do the installation and activate it.
Design of blog
The thumb rule is simple for simplicity the thing to remember is the main selling thing in your blog is content. This makes the reading and browsing experience easy for your reader. Here are given some tips which will elevate your blog user experience.
Here are given some tips which will elevate your blog user experience.
The first thing is to install a drag–and drop page builder plugin. that may be Beaver BUILDER or Elementor for more initiative designing purposes.
Pickup color from color combinations, fonts, and layouts, that will add value to the user experience.
Adding of image gallery will make your blog content engaging.
After that is the incorporation of the logo to solidify your brand. There are many free logo makers available.
The use of icons in place of text will make your site visually appealing, The Exp; of this is the social media button.
When feeling stuck studying web design inspiration.
Install Plugins and Tools to Extend Functionality.
WordPress offers plugins that increase the functionality of your blog website. Plugins work as an additional feature and can be installed adjusted and removed. It does not require coding for management. Different plugins serve different functions, some are for increasing site security, some for backup, receiving contact forms, maintaining moderate comments, and odd Google Analytics.
We recommend you check out the following essential plugins:
So we can say just like other themes here is also free and premium great WordPress plugins. For the selection of a good plugin, it is as much necessary to see its user's rating and review first. Some don't provide regular updates along with essential features or are not coded well. So it is good to select a high-quality plugin that will be worth your price. 
How to install a plugin?
Firstly login to the dashboard and then go to plugins->Add New. Browse for the plugin you need, after finding install and activating.
Third-party plugin uploading is similar to a theme by simply selecting upload plugins.
Create the Necessary Pages
There is statistics content on website pages. The most commonly existing pages are these.
Homage. It is an introductory part of the website .this is the first page visitors will see after entering your domain name into the browser address bar. The home page must have snippets of your best work ever.
About page. It is usually about your site or brand, it includes your bio-history and the objective of the creation of websites.
Contact page. This is about how you can contact website administration. This page includes email, phone number, links to social media, and address or location on Google map.
For the creation of a page you have to abide by the following steps ;
First, open the dashboard and go to pages->Add New, this will lead to word press text editor, which is used for formatting or adding video, and images, or for copying the page.
6. Publication of blog and pre-launch campaign
It is equally important for writing a blog and to make strategic planning of, How it will work or be published? A good planning strategy will not only save your time but also help you in grasping traffic. You must decide earlier what kind of content you are about to publish and at what suitable time. For making successful planning following mentioned things must be in your mind.
Specifying goals. Don't work randomly by avoiding abstract, baseless ideas, set goals or milestones f reaching specific targets within the scheduled time.
Target audience. You must aware of the fact what type and kind of audience you are planning to focus on,u clear about their interest, personalities, and much more.
Finding competitors. It is necessary to find out who is your competitor in your blog niche, read and analyze their most published posts, compare with them, and try to do better against what where is lacking in their blog. show unique things and in this way, your blog will stand out from the rest.
Listing of topics. Make a list of topics about that you have planned to write a blog .try to provide brief information on the concerned topic and also keep in mind the interest of the targeted audience.
keyword search. Before writing every blog perform a keyword search for finding the level of interest it will help you in finding the competition for each chosen topic. There must be a strong reason for writing a blog of keeping the audience's interest.
Time schedule. Consistency is the key to building readership. If you published your blog timely it will automatically increase your online audience, don't disappear after publishing one for a long time.
Similarly, there are also some other points that are also considered in writing and publishing blogs.
Clarity. Always use easy-to-understand language and also keep sentences and paragraphs short.
Use of heading, and sub-heading. These will help readers in finding information faster.
Adding images and graphics. Images and graphics make your site more engaging, sometimes they are necessary when you are writing about something and how it can be done.
Application of SEO. Yoast SEO tool will help incorporate search engine optimization. It helps you in writing and in the publication process. It will dramatically enhance your blog's visibility on search engines.
To create your first blog post, log in to your WordPress dashboard and navigate to Posts -> Add New. You will be taken to the WordPress text editor – the tool for writing and formatting your content.
The WordPress text editor allows you to add and edit blocks or sections of different types of content. Blocks may include the text of various formats, media, design elements, widgets, and embeds. To select and add a new block, simply click on the + button located at the top left of the editor.
If you want to include a predesigned template in your new blog post, browse the items under the Patterns tab.
Once you're done writing, formatting, and adding content to your post, make sure the settings are correct before publishing it. To access the post's settings, click the Gear Icon located at the top right of the editor.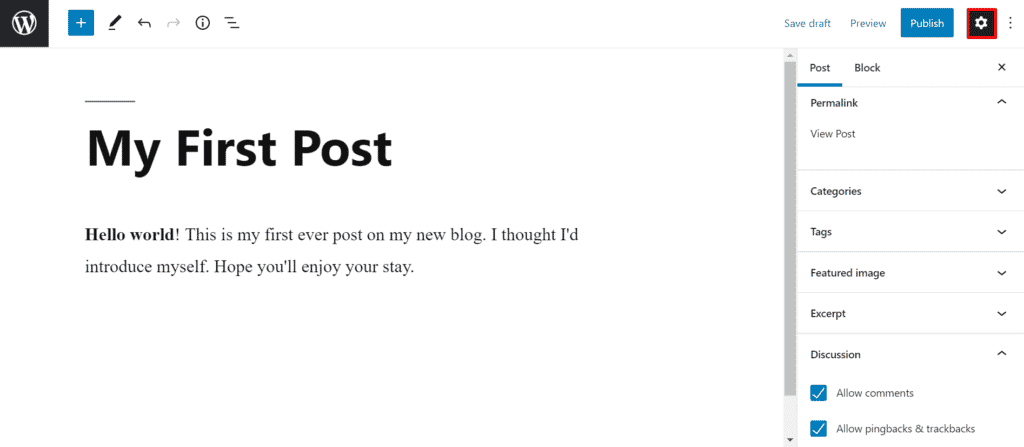 In the settings sidebar, you can choose whether you want to allow comments, add tags, set the post's categories, or upload featured images.
Before you publish the post, Preview it first to make sure it looks exactly the way you want. Go back and edit the post if needed. Once you're satisfied, proceed to Publish the post.
7. Grow your blog by following and promoting
The next step is finding an audience to read your blog, even though you write high-quality content. It does not matter a lot if it does not get reached a targeted audience. That's the reason blog promotion is enviable.
Optimization of the blog with SEO
''A set of techniques used to rank your website on a search engine is called search engine optimization.'Website search engine result page is important. According to Bright Edge, 53.3% of traffic comes from organic search. If your posts and pages get a high ranking on search engines. In that case, your blog will steadily stream on search engines without being paid for advertisement.
Here are some of the most suggested tips for SEO
Keyword search. For better rank, on search engine ranking pages long-tail keywords are the most desirable with low competition. For this, you have to see Google trends, SemRush, and Ahref for getting keyword information.
Signing up for the Google search console. For tracking website performance it is an effective tool.it will let you know which keyword brings more traffic and which website link you most suitably.
Installation of SEO plugin. If you have a blog on word press, the Yoast plugin is one of the most suitable options.
One-page SEO best practice. Some are including adding meta descriptions, optimizing pages, and changing the permalink slug.
Increasing website performance. Fast page speed directly affects SEO. Make sure in following website performance guidelines which will speed up your website.
Usage of social media platforms for building traffic for blog
Promote your blog; A social media platform is an excellent way of gaining traffic for your newly written blog .your goal would be to find the community in which people have an interest in your niche, Get connected with them, and lead them to your blog to drive traffic.
97%of blogging traffic comes from social media. Do post related blogs on social media. It means there is high competition .so it is important to well strategic planning and proper utilization of time will eventually bring traffic to your blog.
Here are some of the important social media platforms.
8. Monetization of blog
Once you have got the chance of taking off your blog. There is an opportunity of making money via blogging .there are numerous ways of getting monetized your blog. Here I am going to discuss some well-known.
Affiliate marketing. This is the way of becoming a brand affiliate. Bloggers have an opportunity to link affiliate marketing and earn money. In this way every time a blog visitor makes a purchase using an affiliate link, The brand affiliate will earn a commission of 5-30%of the product sale price.
Paid ads.  In this type, bloggers have an opportunity of including ad space on their website which is by signing up for an additional network. Google AdSense helps bloggers to connect brands relevant for accessing audiences quickly.
Sponsored posts. Reaching out to brands for paid posts which are about their products is called sponsored posts. Before this, make sure there is an adequate audience on your blog website.
Digital and physical products; in this way first step is the creation of an e-commerce website for your blog and the selling of physical and digital products relating to the content. For ex; selling digital online courses and e-books that will lead your blog to a new height. As long as selling physical goods are also beneficial.
Subscription of users. In this way creation of exclusive content is necessary which is unlocked by subscription to this demands high quality of content so that the value of subscription remains stable.
Why Start a Blog?
The reasons for starting a blog will vary from person to person. However, if you're looking for an extra nudge, here are some reasons why you need a blog:
Self-expression. A blog is a medium to write and share your thoughts on a specific topic. This process is exciting and therapeutic for many people.
Connecting with people. Running a blog allows you to reach new people, build a blogging community, and make friends. If you're a professional, it's a great way to network with other experts within your industry as well.
Making money. There's no denying that blogging has become a lucrative online business. It's a flexible and mostly risk-free option for a side hustle.
Learning new skills. By building a blog, you'll improve your skills and learn new ones, including writing, marketing, SEO, and web development.
How Much Does it Cost to Start a Blog?
It's possible to create a blog today without spending much money. The following is an estimation of how much it costs to start a self-hosted WordPress blog using Hostinger as your hosting provider:
Hosting. Hostinger's WordPress Starter plan is an excellent choice for small blogs powered by WordPress. The starting price is $3.99/month.
SSL certificate. An SSL certificate lets your readers know that your blog is safe to visit. Hostinger offers a basic SSL certificate for free. However, you may want to upgrade to a more advanced SSL certificate down the line, which costs $7.49/year.
Domain name. Hostinger offers a free domain for one year. Renewing a .com domain costs around $10/year.
WordPress. The self-hosted WordPress core is open-source, which means WordPress is free to use any way you see fit – including downloading and modifying it.
A theme. Although there are many well-made free themes out there, they usually lack features, customization options, and support. Instead, we suggest purchasing a premium theme for around $60.
Plugins. Many plugins are also available for free. However, you may need to upgrade to the premium version of some plugins to gain access to additional features.
Having two premium plugins installed will cost around $150/year. If you buy more premium plugins, adjust this figure accordingly.
Marketing and SEO. The costs will depend on which methods you focus on and which tools you use. However, if you're just starting out, it's possible to market your blog using free tools like MailChimp and Google Trends to avoid spending any money.
Maintenance. Most WordPress maintenance such as software updates and backups can be done on your own using free tools. However, WordPress can be prone to technical problems, so it's a good idea to set aside around $100/year for maintenance.
With these figures, the total cost of the first year of blogging amounts to $363.37. Keep in mind that your expenses can be lower or higher depending on your needs.
We suggest making a list of what you need and setting a budget to avoid overspending. If your budget is limited, you can always start with more affordable or free options and upgrade them later once your blog turns a profit.
For Any suggestions write them down in a comment section or visit the contact us page.