Why it is felt necessary, that the blog name must be most influencing and eye-catching? As we know the selection of a blog name is the most crucial point in starting blog writing. It is the primary element of the site that people will recognize. With the advancement in technology we have come across many website that provide help in finding perfect blog name. Blog GENERATOR HELPED US IN THIS context.
Luckily, we have a blog name generator with multiple variations of a blog name that arise when you take help from it.
The way is when you enter words relating to your blog it will create and suggest a good blog name, This not only helps you in creating a blog name but also make it feasible whether the domain name relating that is available or not. Here, We are going to discuss the top blog name generator that can help you in creating an appealing brand-able name.
In this article, we'll go over the top nine blog name generators that can produce appealing and brandable blog name ideas.
Why Do Blog Names Matter?
When we are talking about a fascinating eye-catching blog name. It means there is something which is relatable. The reason of importance is your blog name is the only your online identity. Which is a leading way of establishing the credibility of your brand which wanna start. A blog name also grasps attention by emphasizing on specific terms used in it. We can say creating a good blog name is as much importing as writing about it. It plays as the most turning point in your writing career.
Some of the successful blogs examples are Dooce, The Everywhereist, and Everyday Carry. For growing from casual to professional blogger there must be a need for a catchy name that stands for your blogging carrier.
A good blog name must be having these qualities in it.
It will be easy to pronounce and is memorable
It depicts in name benefits your blog offer
It always remains still fit as the blog grows.
It is not connected with negativity or stigmatized notions.
To come up with all these features in selecting a blog name may be a bit difficult. But here we come with some solutions.
Best blog name Generators
Luckily we are having some online tools that can help us in selecting the perfect name for our blog.
As being the most known blog generator tool. It can generate plenty of good blog names in just a few seconds with the best match-able result. Besides generating a good blog name it can also help you in suggesting, a podcast, business, and e-commerce names.
As we have taken its functionality Nameboy is quite straightforward in using, just entering one or two keywords it will spontaneously create suggestions based on given terms to travel alone. Let's start with a blog relating to travel, and intend to travel alone along with your having an idea of writhing your experience. For this SOLO TRAVEL Is the key phrase covering this niche. After entering this into Nameboy the result will be tremendously amazing.
Nameboy also suggests terms relating to a name. This action makes it an excellent name generator. The term idea people can use in their business blog. Along with this, this also correlates with WHOIS which helps in letting discovering who owns this domain name or who has already taken it.
Wordoid is also an important blog name generator. It can help you in creating attractive blog names for different niches. Wordoid has uniqueness in creating brand-able made–up name which you will not find in the dictionary but they are easy in pronouncing and looks real.
The name generator interface will appear with a smart interface. It also provides its users with different options to assist with the blog names. The generator gives you an opportunity of using five languages English, German, Spanish, French, and Italian, the one or two may be used at one time. This tool also provides a quality level setting that is low, medium, and high, as per need required, the higher the quality is the more natural and vivid it will be. There is also an option of adjusting the pattern of Wordoid and indicating begin, contain, and an end. As for length is concerned it allows upto15 characters, making it easy to use restricted to character length of five to ten. You also have the option of unavailability by clicking unavailable.com.
Zyro Business Name Generator as the website builder has many features of free tools, That is used in all powered business name generator, this powerful generator have the ability to generate dozens of different ideas relating to your niche, It helps you in creating a unique, the attractive name for your business blog. Using this generator is quite simple by inputting a keyword that is relating to your blog .keep in mind it will be free from' commas ' then click the generator name button.
Since this generator doesn't show domain name availability, make sure to use a domain finder to see whether a name is available.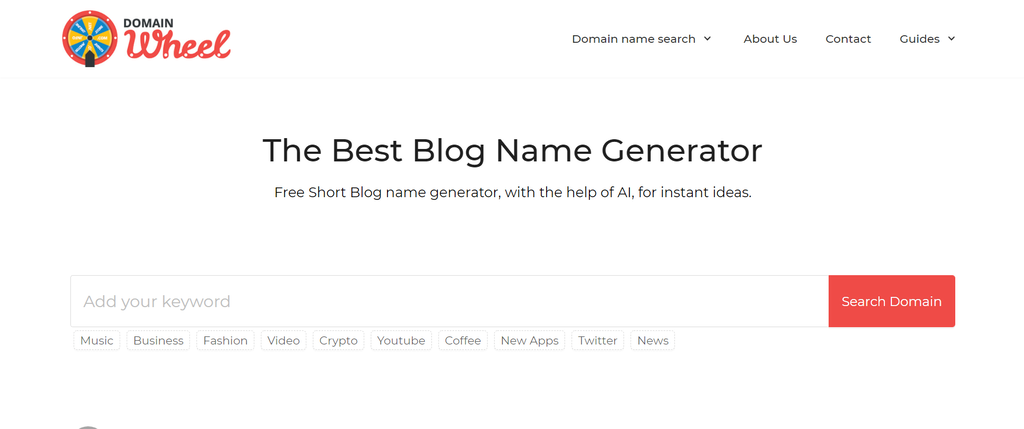 DomainWheel help in creating names for personal and business blogs. The use of the domain wheel is as simple as told before relating to others. Type a keyword into the search box and search. It will show you a list of available domain names. Once you got the result then you filter according to your choice. If you enter a keyword relating to travel it will show you the most appropriate result.
Selecting a desirable name will further lead you toward registering that one. If the initial results are not in your favorite recommendation, The option for scrolling more is still existing until you find the most suitable this also emphasizes suggestions based on rhymes and sounds like your keyword. It offers you the best of available choices.
Namify is another excellent available name generator, although its primary function is to help the user in finding business name ideas, thus also helping in suggesting eye-catching names. One of the best qualities of Namify is when you enter a term it gives you thousand blog name ideas. The suggestion will not only be shorter but also modern. This is an additional feature that its contemporary does not offers. When you are using this at least enter two keywords and also select a category describing your niche. The best result will be shown afterward. For example, if you are entering the keyword relating to meal and recipe after choosing a food category.
The Namify will show the best available result. Click the name whose domain availability you want to check.com accessible it will show other options. One other most beneficial feature of Namify is its social media availability. It will let you know the name you selected, if available on other social media plate forms as well. It also offers you sophisticated logo suggestions which will increase the effectiveness of your selected blog name.
Lean Domain Search is the free version of the blog generator name. If you enter your name It will show you hundreds of blog names. Its main focus is efficiency. It only shows you a .com domain suggestion and skips the less popular domain extension. Using this tool is quite simple when you enter a single keyword and click on the search icon, in a second the tool will show you hundreds of suggestions.
The users have to pick up according to the popularity, length, and alphabetically. They also have the option of filtering the name. It also has the facility of copying the result and can share it with others. Finally, we can say, this tool is a wonderful prevailing option for generating blog names.
Panabee is one of the most popular tools it is found beneficial for generating blogs, apps,s and domain names. It is with a simple interface and appealing design. This offers you to generate names by merging keywords with double letters, or eliminating or swapping related words. The use of Panabee is simple as the others. Type the word by describing a niche more likely by entering more than one keyword. It will show you the best result.
For example, if you want to start a blog with beauty-related things, You have to enter beauty and glam into the search bar and it will let you know numerous results of the beauty-related blog names. For finding either domain name is available for that next click on the blue heart. If the name is not available, click on the see an option for an alternative. Some taken domains will be available for purchase as being premium.
The thrust of a catchy domain and brand can be fulfilled by using this blog-generated tool. Users only need to enter specific keywords and the result will be outstanding. This will offer you a thousand blog name with assigned industries that is quite matchable quarries. For checking domain name availability click on the preferred name and it will show you a domain extension. Here you can also use the filter by character count along with the industry. They also provide you suggestions of after or before keyword-generated text along with names containing more than one word.
Most desirably, It makes you feel happy by giving the offer of saving your favorite one. It makes your search safe if you like one previously.
NameStation is a powerful tool that works under some limitations for blog generating names. Here is necessary to register for a free account, then you can use this tool. To search for results enter a keyword, It will show a lot of results. Choose one of your choice blog names. On the left side you have more options to explore including prefixes and suffixes, etc. The free version only offers a name ending with .com. The other premium option can be purchased as well. The uniqueness of the name station is its name contest.
Frequently Asked Questions About Blog Names
How Do I Decide on a Blog Name?
Consider factors such as your blog topic, target audience, and brand voice carefully to find a unique blog name. Researching competitors' names and browsing a thesaurus are also good ways to brainstorm.
Another method involves using blog generators, like the Zyro Business Name Generator or Wordoid. These platforms help combine your brand, catchy phrases, and relevant keywords to create the perfect blog name.
Should I Name My Blog After Myself?
If your blog isn't limited to a certain niche, naming your blog after yourself might be a good idea. Self-named blogs are great for those who want to grow their personal brand.
Many experts, consultants, and coaches run blogs under their own names, such as the website of Gill Andrews.
That said, for those wanting to promote their business and sell products, it might be better to choose a name that fits their niche. Consider brand-based or keyword-based names, like Brew Dr. Kombucha and Stojo.
How Long Is Too Long for a Blog Name?
The ideal blog name length is six to 15 characters – anything above that is considered too long. The longer your blog name, the harder it will be for your audience to remember it. Therefore, it is best to keep your blog name short and memorable.
A blog name under 15 characters will also work nicely when creating a social media handle. This way, you'll create a consistent brand name across social media platforms.
What Is the Best Top-Level Domain for Blogs?
A good rule of thumb is to combine your blog name with the .com top-level domain (TLD) because it's the most popular domain extension. Many people associate blog and website addresses with .com and type it in automatically.
However, if you have a specific niche such as photography, technology, or fashion, choosing unique domain extensions such as .photo, .tech, or .fashion can help you stand out.
Once you have an ideal domain in mind, remember to use a domain name checker to check its availability.
Conclusion
Selecting of good, attractive, and appealing blog name is as much necessary as the other things for writing a blog. If you want to take a start-up by blogging then these things must be in your mind. The up mentioned generator will be a series of accessories in helping you timely. With the help of a blog name generator, you will be able to make decisions wisely.
Here's a quick recap of the top ten blog name generators to choose from along with their key features:
To increase your blog's chance of ranking high on search results, consider using keyword-based names. Alternatively, if you want to stand out from the competition, a brand-based name might be the best option.
All in all, take your time and utilize blog name generators to create an unforgettable and unique new blog name.
For Any suggestions write them down in a comment section or visit the contact us page.