Still in a state of conflict about picking out which one is the best elementor theme and template in the available breed? No need to bother about it. I am here to help you out in this context. As you are already familiar with WordPress page builder plugins, they allow you to create custom layouts for your WordPress page with drag-and-drop interface assistance. WordPress is a famous web development platform that also collaborates in creating thousands of themes, primarily providing support in elementor pro. Elementor is a powerful and important WordPress page builder plugin. The most crucial thing you might have to face in this context is deciding which one is the best to fulfill your needs.
In this blog, I have decided to sort out one of the best available themes and elements for your professional-looking WordPress website.
What does it mean to use the Elementor Page Builder?
Elementor is the most significant part of the landing pages. It can help you create those pages without the WordPress block editor. Its function is exactly like other builder plugins like Beaver or DIVI.
The most important aspect is that it allows you to customize every aspect of your website. These are available in 80 designs, primarily used to add text, images, posts, and testimonials, most probably for live preview. In addition, it also has separate modules for online stores, which eventually prove helpful in creating mesmerizing business pages.
You have been allowed to use pre-made templates that can be altered in the layout using a simple point-and-click user interface.
However, the Elementor page builder has integrated with the WordPress third-party services for analytics and email marketing and correlates to your website's performance. As we discussed or saw its compatibility, it is considered one of the best themes for page builders. It is important to note that for creating custom WordPress layouts and themes with the elementor page builder, there is no need for code.
What is the difference between WordPress Themes and Templates?
The main difference is that WordPress themes have all the features required for creating a website, blog, or online store.
On the other hand, templates are merely used as a layout for a specific page or as a part of a website. It is for custom-designed websites or as landing pages.
What are the best themes and Templates?
As we researched online free templates, we learned many free and premium templates are available, especially for the accessible version of Pro. There are also various other templates available that can be used with existing WordPress themes.
Let's take the initiative to know which one is the best theme and elementor available for the time being. Note: Before installing the theme, you need your website's domain name and hosting. If you have not yet taken it, you can use my link to buy it from Hostinger.
What is a domain name?
A domain is a specific name for your site address on the web, like www.technopixelss.com, and Webhosting is the storage space for keeping all your data files online. The preliminary step taken in this context is to install WordPress. After the need to install themes, you can pick out the one that most appropriately favors you.
It is the most powerful featured containing theme for any website. That can easily be combined with the elementor page builder plugin and help customize every aspect of your website. It is correlated with dozens of ready-made demos and starter sites as well. For speed and optimization performance, it is highly beneficial. Although it offers a free version, it does not include starter sites. To choose that, you must use the WordPress customizer to make changes to your website page.
This is the most popular WordPress theme with the Elementor page builder. It offers many templates with one click demo content installer for a more straightforward page setup for websites. The premium version of this theme offers many extensions which will add value to your current work and the functionality of your website. It has a fast page load time and supports WooCommerce. OceanWP is highly responsive, making your WordPress work fast on any device. Furthermore, it is SEO-friendly, which helps your website rank rapidly on other search engines.
Seedprod is the best among all the visual WordPress themes. It allows you to create a custom theme that you can use for your website and your e-commerce store. It differs entirely from the preceding themes; it behaves like an elementor. The theme is relatively easy to use; even a beginner can use it easily. It carries the same drag-and-drop functionality as a page builder. So it is interesting that you are building your personal theme instead of creating a page. Seedprod also helps you with ready-made theme designs, which are complete and can be easily customized with seedprod page builders. It is better to make your own theme with a background of your choice and desirable fonts, layouts, and colors.
It is a fantastic theme for brands, agencies, and online professionals. It is an outstanding combination of black and white layout with the right amount of color emersion, which gives it an elegant look. The theme is mainly built on the StudioPress Genesis framework, which makes it incredibly robust. It is inclined with a minimal design with full width to add your custom image representing your brand. It is pretty easy to use while utilizing the elementor page builder. This can be used for creating a WooCommerce online store.
It has a stylish one-page WordPress theme built for page builders. It combines modern design with front design templates that are divided into customizable sections. It emerges in correlation with online woo commerce support. Hestia is also helpful in creating multilingual websites.
Generatepress is a friendly WordPress theme. It comes with a highly adorable and customizable layout. You have the facility to change the themes and layout of your page according to your desire. You can eventually change the design, color, background, and many other options. Generatepress is mainly used for search engine optimization to get more visitors from online search engines.
This is specially designed for modern needs and is an essential part of the elementor builder. Its functionality works on a transparent header layout with a sticky navigational menu, including images, sliders, and background. The most prominent feature of it is its high flexibility in adjusting dozens of customization options in the live WordPress customizer. The theme is also functional with the Woocommerce and WPML plugins.
It is desirable and a favorite for lifestyle and wellness WordPress websites. Most of it is situated on the Genesis framework, which gives top solid performance to it. Its main functionality consists of custom widgets, page templates, headers, and multiple sidebars. You have full access to the change altar and can make any customized essence pro using Elementor Page Builder along with the WordPress live customizer.
It is a single-page WordPress theme specially designed for drag-and-drop page builders like elementor. It combines many column layout options with a widgetized homepage for creating any desired website quickly. Potenza is associated with remarkable features like custom background, animation, parallax scrolling, and image slider. For beginners, it is easy to use and feasible.
As far as Customify is concerned, it is the most popular free WordPress theme used for drag and drops page builders, including elements. Its multi-purpose theme can be used for any website in any business niche. It gives you the facilitation of using customizable themes, colors, and fonts using the WordPress customizer. Customify is easily adjustable to any WordPress plugin to create an e-commerce website.
ZELLE is a one-page layout with a modern and stylish theme for WordPress. It correlates with Elementor, which makes it relatively easy to customize design elements. One of the best features of it is the flexibility of adjusting WordPress themes, including supporting e-commerce support. Zelle is easily translatable and can also be used for multilingual websites.
Button interactive is simple yet easy to use with WordPress elementor templates. It integrates with bold colors, a bright appearance, and excellent typography. Its primary use is the formation of landing pages. It offers a header area for adding images, galleries, team members, testimonials, and a footer. The templates are extendable and can be customized easily.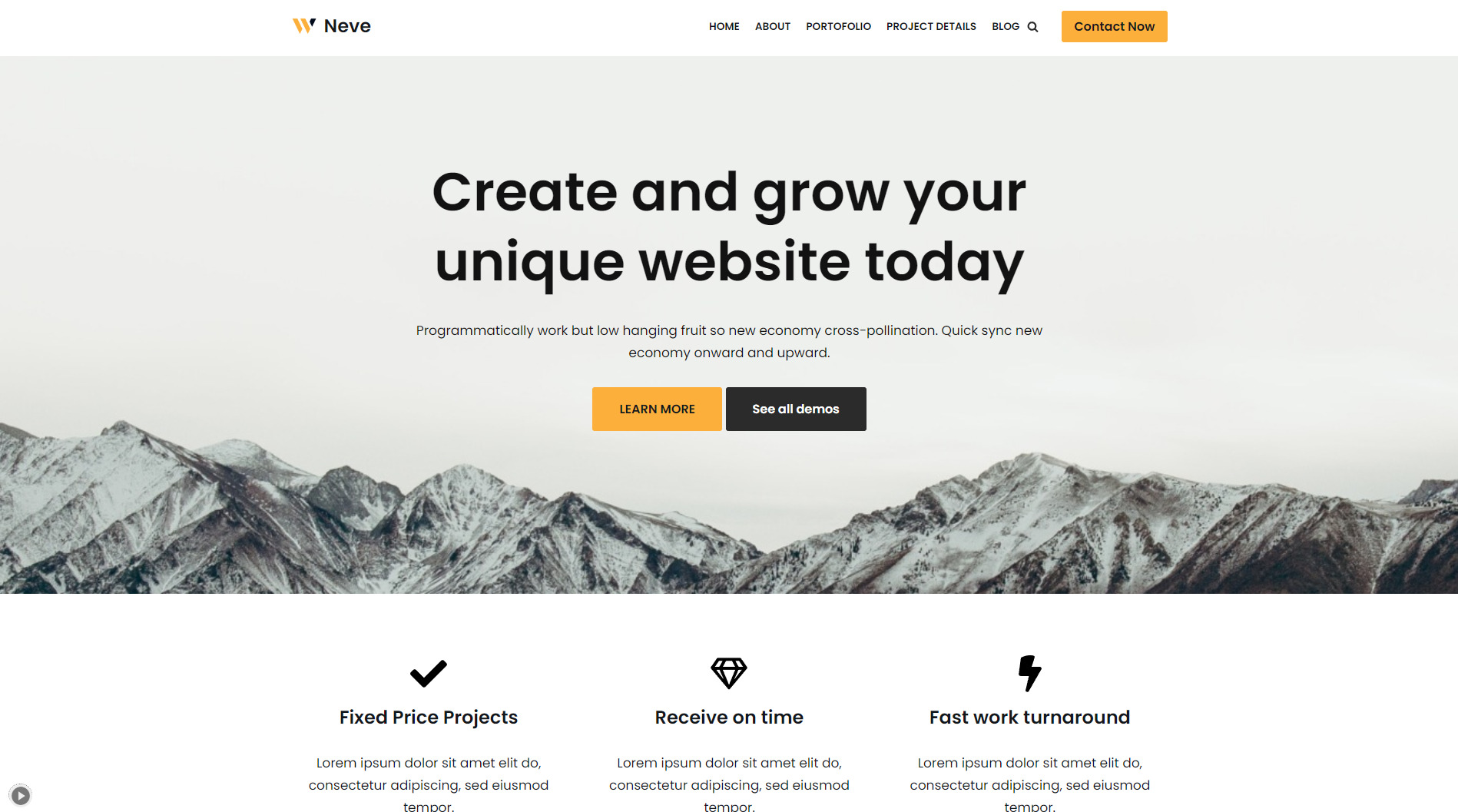 One of the beautiful themes for beginner use is NEVE. It is very accommodating and works beautifully with Elementor, making creating custom layouts for websites easy. The exciting thing about it is that it can be changed and altered as needed with elementor. Its ready translation is available for RTL languages and multilingual WordPress plugins.
It is a free WordPress theme with Elementor and can be used for multi-purpose work. It integrates with numerous themes and templates for creating any business website niche. In addition, it has a one-click content installer for quick and easy setup. One more noticeable feature is touch friendly slider and sticky header with a video background. Not only that, but they also have advanced portfolio templates and gorgeous animated sections.
Alec is designed to create beautiful landing pages for music or band websites. It is allied with a beautifully organized full background image that can be customized using Elementor's drag-and-drop page builder. In the section below, You can anticipate upcoming events, add images, and manage your content. You also altar and put video and custom background.
Hello is a minimalist free Elementor WordPress theme built specifically for the Elementor page builder. It has a featured image with a large custom logo and content in the header section. Other than that, you can add a call-to-action button and custom icons below.
It comes with custom colors, flexible header options, a navigation menu, and more. This theme fully supports RTL languages.
Deep is an excellent WordPress Elementor theme built with the Elementor page builder. It offers a visual footer builder, an advanced mega menu, and powerful theme options. It comes with a 1-click demo sites installer to help you get started right away.
Deep features multiple custom widgets including social channels, post slider, testimonials, latest reviews, and newsletter subscription.
We hope this article helped you find the best Elementor themes and templates. You may also want to check out our ultimate guide to improving the security of your WordPress site.