The best freelancing websites, which help you in finding a job remotely are Fiverr, Upwork, Guru, Freelancer, Peopleperhour, 99designs, Linkedin, etc.
Freelancing stands for what?
''Freelancing actually provides you, an opportunity to make more money while having control of your scheduled hours''.
It is estimated as freelance made up of 36%of the U.S Market place in 2020, and the number is gradually increasing day by day. Freelance can enjoy the liberty of choosing his work clients and project as he feels best he demands of freelancing work during the outbreak of COVID 19, it was the time when companies felt the need for jobs which can be done remotely. the demands of freelancer jobs from the grocery store to web developer are much greater than felt before.
15 Best Freelance Websites to Find Work
Fiverr.com
Toptal.com
Jooble.org
Freelancer.com
Upwork.com
Flexjobs.com
Simplyhired.com
Guru.com
Linkedin.com
Behance.net
99designs.com
Dribbble.com
Peopleperhour.com
Servicescape.com
Designhill.com
Freelancing type: digital marketing, web development, social media
Pros: diverse category, free registration, online courses
Cons: high commission charge, the long payment process
Fiverr comes among the top freelancer platform that connects freelancer to a business owner who is in search of finding the right service provider for digital projects, including web designing, graphic designing, content writing, and many more. the freelancing website act like a bridge between the freelancer and the business owner. The specific term is used at FIVERR for a freelancer as ''seller'' Service as ''gigs'' And business owners as ''buyers''.
Fiverr provides the opportunity to sign up free, listing your gigs and setting prices. The buyer has the option of browsing through different categories and selecting the needed one. Similarly when a buyer purchase a gig the system of Fiverr automatically became active and starts charging the account by holding money in advance. the system takes a 20% commission fee unsensed only 80% to the freelancer of the offered price.
It also depends on each freelancer's seller level.it took 14 days to withdraw your earnings. About 3.42 million active buyers are taking services via the Fiverr platform. Fiverr also offer multiple options for withdrawing earnings may be in form of a debit card, PayPal or v, or a wire transfer.
Freelancing type: software development, financial consulting, interim management
Pros: top-tier companies and talent, free invoicing and payments
Cons: extensive screening process, big projects only
Toptal freelancing website, offering interim management, financial consultation, and software development. The website connects highly-qualified freelancers with companies. Toptal requires a freelancer to pass five steps screening process which includes a comprehensive English evaluation test and to project assessment task, this ensures only 3%top the freelancer's availability to the platform.
Successful passing these test lead you towards posting various jobs. However, if you fail your application will behold for a few months.
Toptal is dedicated to serving the time tracker process of invoicing called top tracker. This process ensures the total price which can be withdrawn via PayPal or pioneer or direct local bank transfer.
Freelancing type: writing, graphic design, data entry
Pros: centralized job discovery, email alerts, no signup necessary
Cons: no quick application – must apply from each job vacancy's source
As far as the jooble is concerned it is acting as a search engine for job vacancies approximately 140,000+sources that are corporate websites, freelancing platforms, online job boards, and social networks. Along with other significant advantages of jooble is, it centralizes the procedure of finding freelancing opportunities .jooble helps you in the searching job in a particular region.
There is also no need of creating an account to find a job on Jooble, the only thing you to do is type a keyword for the most appropriate one and the search engine will show you a list of the job according to desired criteria you set by selecting filter of job, salary, and region preferably.
Freelancing type: content translation, web development, social media marketing
Pros: progress tracker, live chat, 24/7 customer support
Cons: complex interface, spam applicants, and fake clients
'Freelancer.com is also a well-known website for seeking an online job .it is providing services of web development, content translating, and relatively social media marketing.it also has advantages of progress tracker, customer support24/7, and live chat as well.
Drawbacks are complaints about the complex interface, spam applicants, and fake clients. Although freelancer.com have disadvantages yet, professionals and companies all around the world interact on thousand of projects. The requirement of sighing up is to fill up a short registration form, which needs your educational background, skill, and work experience.freelancer.com offers full payment after completing the job in the given time.
Only 10%of the earnings is deducted for the contest and for fixed projects .website also facilitates withdrawing earnings via PayPal or wire connection.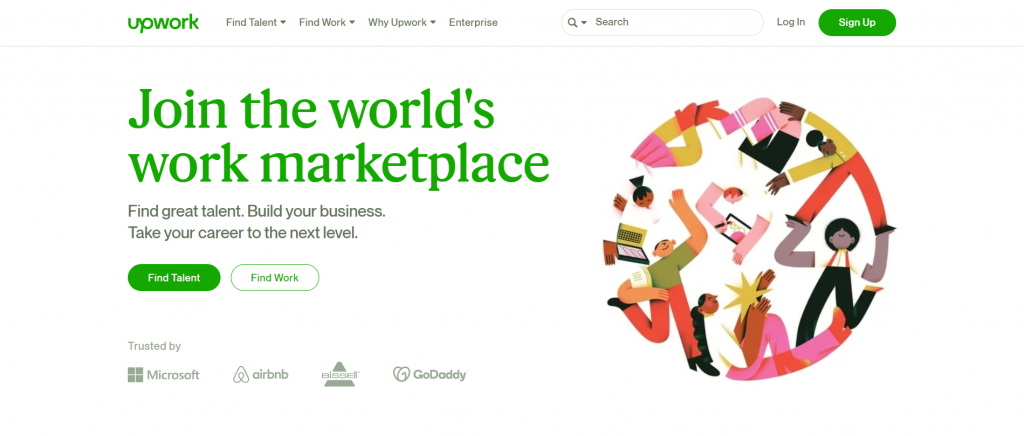 Freelancing type: brand marketing, programming, website design
Pros: payment protection, credible clients, budget-based projects
Cons: lengthy selection process, high service fee
Freelancing website Upwork globally connects freelancers and companies .it is offering services of web design and brand marketing .upwork guarantees you ensuring payment protection, budget-based projects, and credible clients.
As being, a famous plate form of online job service Upwork divergent range of connections which clients can choose to post a job and hire talent or may buy predefined projects from the catalog. To initiate, on Upwork as a freelancer, the primary thing is profiling creation which includes all detail ourselves along with your work experience, the criteria of selection lie in the handstand of the client by scanning your profile either you can bid for a relevant job or u may pitch a project.
The work has fluctuating scale, the more u win a project less you will pay in the form of commission, initially it is 20% which later decreased as you earn more money .as other freelancing websites Upwork also facilitates by offering various withdrawal methods like PayPal, direct transfer and wire connection too.
Freelancing type: writing, content marketing, transcription
Pros: scam-free, 30-day money-back guarantee, reliable support
Cons: some premium jobs can be found outside the platform
Flexjobs is a website that specializes in flexible and remote job opportunities, including freelance, part-time and full-time jobs. There are broad categories, from education and training to journalism and writing jobs.
Flexjobs ensures every job listed on the website is legitimate. It verifies and screens all openings, filtering out scams and fake companies. Unlike other online job boards, this freelance website doesn't display any advertisements on its page. To find freelance jobs, users need to sign up for a subscription. There are four plans available, starting from $6.95/week. Every subscription gives unlimited access to the job listings, along with a personalized work portfolio, career advice, and free skills testing.
Users can pay for their subscription with a prepaid card or PayPal. There is a 30-day satisfaction guarantee, meaning you can get a full refund if you're not satisfied with the service.
Freelancing type: human resources, finance, data entry
Pros: email alerts, helpful guides, free job tools
Cons: spam from unreliable third-party websites
SimplyHired is a job board where companies can post job opportunities for free. It also collects job offers from all over the internet into one page. The site has a clean user interface, making it easy to browse jobs by category.
There are various freelance opportunities in different fields, including finance and marketing. To find a specific job, simply fill out the search box with related keywords. To have more relevant results, narrow it down by filling out your city, state, or ZIP code.
Job seekers can also access the company pages to learn more information such as a salary overview of a company, a list of benefits offered, and reviews submitted by its real employees.
People can browse through SimplyHired without a profile. However, signing up for an account will give you access to various job tools, such as a salary estimator and resume builder.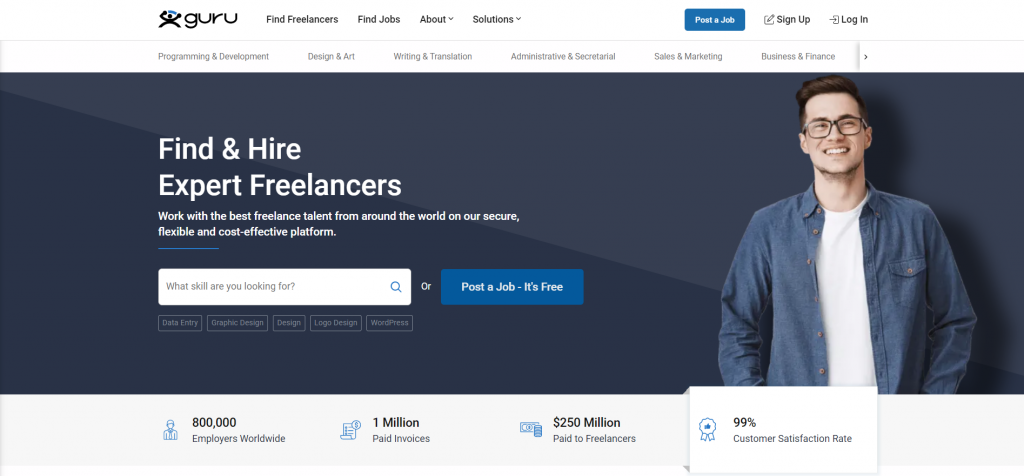 Freelancing type: marketing, programming, administration
Pros: secure payment, customized job listings, free membership
Cons: potential fake clients
Guru.com is functioning as a bridge for companies and freelancers across the world to interlink together. The companies have the advantage of hiring different skillful freelancers such as those having expertise in programming, product management, and graphic designers as per needs arise. The system of guru.com work on the browsing job listing, and submission of a quotation, which eventually led to signing up, and creating a freelancing portfolio.
After this system will start giving you job recommendation which is truly based on your skill and work experience. The website also provides the opportunity of bidding on long and short-term projects at a fixed price. As the other freelancer websites offered divergent ways of withdrawal, guru.com also work seemingly.
Every freelancer website gives free membership, however, paid membership plans offered tools to stand out from your portfolio.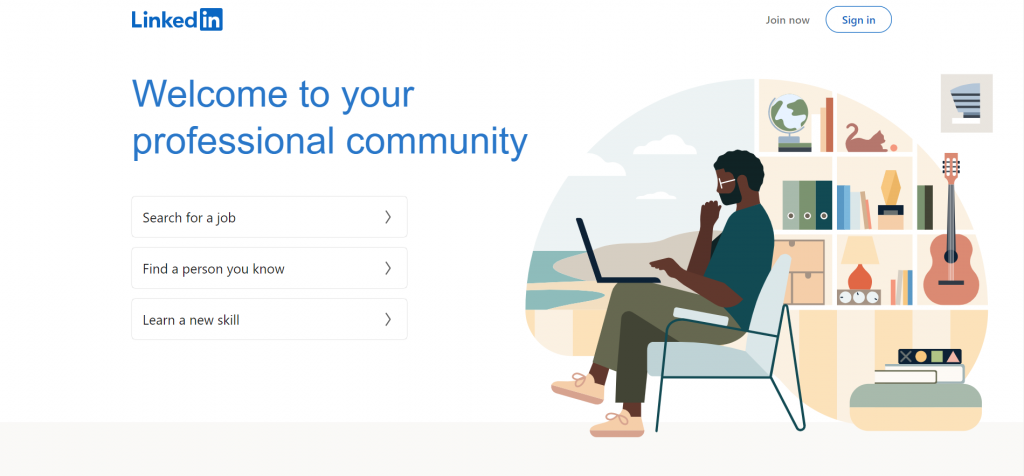 Freelancing type: copywriting, translation, graphic design
Pros: networking opportunities, recent news updates, cost-effective
Cons: spam content from malicious users
LinkedIn is found to be one of the most saturated professional job seeker platforms in various fields .it also functions as a social networking web for professionals and freelancers to interact with one another. The sighing up procedure is quite simple.
Once it is created with a detailed description of qualifications, skills, and work experience, it will help you find a prestigious job. A new post can also make your profile prominent.
For example, if you are a content writer u can describe your work precisely along with attaching a portfolio, most probably it will be noticed by the professional and you will get an offer soon.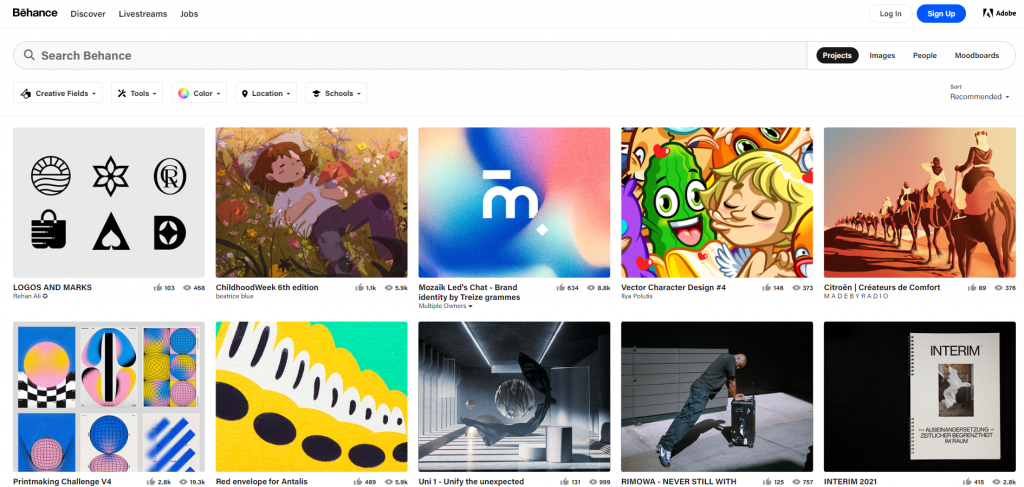 Freelancing type: illustration, photography, web design
Pros: large audience, networking opportunities, personalized content
Cons: competitive environment, limited image file size
Different from previous freelance sites on the list, Behance is a social network for creative talents. People worldwide use this website to build portfolios and share their creative work, ranging from animations and illustrations to website and graphic design.
Whether you are a freelance graphic designer, web designer, or animator, Behance provides a place to get discovered by potential employers. Start by signing up for an account and establishing your profile.
As it's a networking site, the more profiles you follow, the more posts will appear on your feed. It gives a chance to discover more freelance work opportunities.
Behance also provides a job list. Every freelancer will get a personalized job recommendation according to their skill-sets and category, making it easier to find freelance work that matches one's expertise.
Freelancing type: web, logo, and graphic design
Pros: dedicated environment, payment security, active community
Cons: high service fees, the designer level can be limited
For freelance designers looking for jobs, 99designs offers plenty of options. It is a freelance website specially tailored for designers and businesses to collaborate. There are various design projects available, from logo design and book covers to clothing and merchandise.
Upon signing up, you'll be instructed to build a profile and include your work experience. The curation team will review your application and determine your designer level. The higher your level, the more visibility you get on the platform.
99designs makes looking for freelance jobs of your expertise easy. By selecting industries, styles, and design categories, you will have access to a list of jobs to choose from.
Whenever you work with a new client, 99designs will charge an introduction fee of $100 and a platform fee ranging from 5% to 15%. Freelancers get paid via PayPal or Payoneer within three business days and sooner for people with higher profile levels.
Freelancing type: mobile design, illustration, animation
Pros: large network, global community, abundant design inspiration
Cons: lists of freelance jobs are only available with a pro version
Dribbble is one of the most popular platforms for creative talents to meet, connect, and interact with each other. Designers and artists use this website to build portfolios and promote their brands.
Creating a work portfolio on the website can increase your chances of getting hired. Do so by signing up for an account and uploading your designs.
Another way to find work opportunities is to open the job board on your browser. There are various types of jobs on the website, including UI/UX design and content creation. However, access to freelance job lists is limited to premium users.
Dribbble premium version ranges from $5 to $15/month. With a pro version, users can upload videos and multi-shot images to their profiles. A premium account will also get priority placement on the hiring search listings.
Freelancing type: programing, journalism, branding
Pros: automated invoice, location-based listings, secure payment
Cons: free bids are limited to $15/month
This website as the name depicts, help professional and companies to hire people for an hour or as by project. Millions of freelancers from different industries like public relations, journalism, and marketing are present there to provide you the quality work.
As many other websites do, the people per hour also follow the same method of generating a profile.it is the primary check of moderators to review each application before approving it, once it is approved then you can apply and browse in multiple job categories. Working on people per hour is simple when you work on the project, the freelancer has to send an offer and, mention prices. Once it is done, afterwords they can feasibly raise an invoice from their dashboard.
Likely other freelancing websites this website also charges a service fee per client. For approximately $350 earning, 20%will be deducted as a fee. Luckily it decreases as you get more work.
Freelancing type: academic writing, document translation, manuscript editing
Pros: custom pricing structure, flexible scheduling option, effective communication
Cons: high commission percentage and limited field of expertise
ServiceScape is an online job board specializing in freelance writing, editorial, and translation work. The platform helps freelancers build profiles and promote them to a growing client database.
What sets ServiceScape apart from other platforms is the hiring process. Instead of placing bids or sending proposals, freelancers simply wait for work offers from clients. Thus, it's crucial to have a profile that stands out.
Freelancers and employers can connect easily via ServiceScape. Both parties can send messages and schedule a conference call.
ServiceScape distributes income every month via PayPal, check, and Gusto. Freelancers can set a custom pricing structure, project-based or hourly. However, the platform charges a commission fee of 50% for every completed work.
Freelancing type: website, brand, and merchandise designs
Pros: built-in online store, no service fees, live chat support
Cons: not a good option for non-designers
DesignHill is a creative marketplace where businesses source quality design from professional designers and artists. There is a broad range of design jobs available, including logos, websites, and brochures.
Signing up for an account will bring a wide selection of freelance design jobs and various design contests. It's an excellent chance to grow your work portfolio and establish relationships with clients.
As a freelancer, on this website you can build your own stores and start selling globally, using tools such as a profit calculator and business card maker.
DesignHill only charges service fees to clients. Thus, a freelancer will receive the total amount of money into their DesignHill account from design jobs, contests, or store sales.
As for payment withdrawal, the website supports PayPal and Payoneer.
Conclusion:
To sum up, the brief discussion relating freelancing websites in 2022, it is extracted, that up mentioned website are the most functional, easy and client-friendly atmosphere providing, once you get acquainted, you will definitely become successful in finding job .in present time finding a job is not much difficult as it was in old days. the only thing that does matter is your qualification, work experience, and your skill.
For Any suggestions write them down in a comment section or visit the contact us page.
Freelance Websites FAQ
This section will answer some common questions about freelancing.
What is freelancing?
A person is considered a freelancer if they work independently instead of for a company. Since freelancers are self-employed, they generally make direct contact with clients to discuss hiring terms and can determine their own service rate.
Companies often hire freelancers as independent contractors for a short period or a specific project. As freelancers only maintain a temporary position, they don't receive any benefits that a full-time employee would.
What are the advantages of being a freelancer?
The main perks that freelancers enjoy include the freedom to manage their business and choose clients, flexible working hours and location, faster professional development, complete control over their service rates, the ability to improve intrapersonal and soft skills, and opportunities to work on various types of projects and topics.
How to become a freelancer?
Choose the type of service to offer. Narrow down the options based on your skillset and passions. Next, define your target market and business goals. Doing so will help set your rates and decide on the business model to employ.
Once that's taken care of, build your personal brand by creating accounts on multiple social networking platforms, making an online portfolio to increase your online presence, and setting up a business email account.
Look for potential clients on freelance websites or social media platforms. As the business grows, continue honing your skills and update your portfolio regularly. Be sure to maintain positive relationships with past clients to open more opportunities.
How can you do SEO for my Website?
Search Engine Optimization is not a just one-time activity, whether it is an ongoing procedure to perfectly maintain the optimum digital presence of your website on major search engines like Google, and BING. SEO is not a cup of tea which anybody can perform; it requires sufficient time and money. As a leading Digital Marketing Agency in Chandigarh, our professional and well-knowledgeable SEO Experts serve you best SEO packages and all other Digital marketing strategies.
How We Chose Top Freelance Websites
To ensure that each freelance website on our list is reliable and trustworthy, we weighed in several factors, such as:
Terms and conditions. Chosen freelance websites have well-documented terms and conditions that protect both freelancers and employers on said platforms.
Customer support. Each freelance site provides customer support to guide users and resolve any disputes.
Payment and withdrawal methods. Local and global freelancers can receive payment from freelance websites through multiple options, such as bank transfers and electronic payments.
However, don't forget to double-check everything when applying for a job since there is always a possibility of being scammed.