There is a need to understand what is the subdomain, actually, subdomains are the part of the URLs structure that lies before the first dot. Their primary function is to organize a directory of the different content sections on your website. They are primarily used for creating different separate stores, shops, blogs, and forums, for example, World.economy.com, in this URL world is the subdomain, the economy is the second URL, and ''com, is the top-level domain. For better understanding, I will try my best to describe each and every detail in a precise way.
Components of a URL with a Subdomain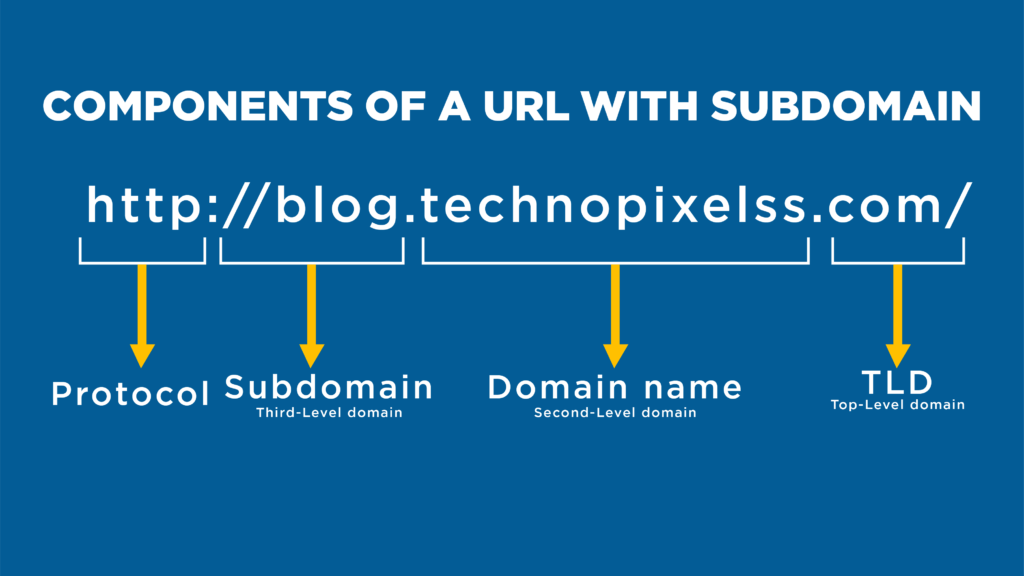 Difference between a subdomain and a domain
Both domains and subdomains are part of the website URLs. The main difference between them is which one is used at which time and for what purpose. Mostly a domain is also acting as a root domain when there is a matter of website creation. It plays the magic role of converting your IP address into an easily memorable address. In another way, we can say a domain is what people usually write in the address bar of the browser for the searching website. Additionally, a subdomain is also a part of the main domain functioning for organizing data files in précised way.
Here we are explaining the structures wise of both and trying to highlight what differences are between them;
As we already know WWW is a subdomain and is commonly used it has a specialty and cannot be used as an ordinary one. Additionally, there are also found fully qualified domain names (FQDN) which are consisting of hostname and domain names as well.
What is the usage of subdomains?
As being used mainly for site organization. There are also numerous uses of subdomains. you can create a subdomain for performing several other tasks as well.
Testation of the new site: Here is the facility of building and editing a site without putting the main domain in maintenance mode. This will add value by not disturbing the main site.
Launching of different language versions: You own the facility of launching different websites in different regions of the world, irrespective of the fact they are having different languages. for example, pak.yourdomain.com, for Pakistan Uk.yourdomain.com, is used for the United Kingdom.
Creating a mobile version of your website: It is as necessary for ranking a website high to work on mobile as on a laptop .for this you can use subdomain URLs such as Blog.technopixelss.com
Offer different services and products: Subdomains are mostly used for separating your forum site, services, help center, blog, and other content from the main site.
Creation of new designs: Here in sub-domains you own the opportunity of hosting on different platforms offering better services as you need for time being. Such as other e-commerce site builders, CMSs, and eCommerce site builders.
Better organization of site: Having a subdomain can help you in managing and supporting your audience in different ways as customer support, FAQ, documentation, and community respectively.
Creation of sub domain
You have generously obliged of creating as many subdomains as you need that may be exceeding from hindered too, The word press hosting shared plan gives you the choice of creating in bulk. There are mostly two ways of creating subdomains that are in use; via the control panel or the DNS on your hosting account. keep in mind one thing you must already take the domain name for creating a subdomain.
1) Creating subdomain via h Panel
For creating a subdomain via h Panel your domain must be pointed to Hostinger. in case, your domain is registered to some other registrar then you have to follow the following instruction to point it on Hostinger.
Starting from, go to your CPanel dashboard scrolling down to the domains section. click on Subdomains.
Here you must enter your intended subdomain and click on Create.
You can also tick on the custom folder subdomains box for creating a specific custom directory. Once it is done a pop-up right on the corner will appear saying "subdomain created successfully'' there you will also get a list of available subdomains if needed any select otherwise delete it.
Furthermore, you have to install the platform you want for subdomain usage. for this purpose, you may need WordPress.
Go to the website tab on the left menu bar and start by clicking on Auto installer.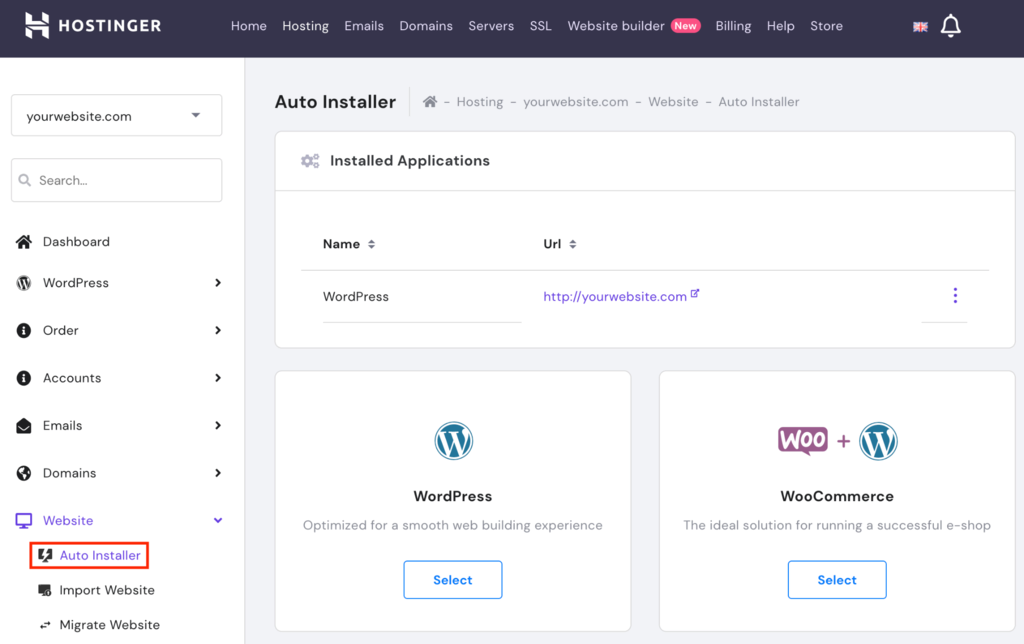 Select WordPress as your platform for your subdomain.
Here you need to fill in the form to install word press on your subdomains.
Select the subdomain of your choice.
Put in your login credentials.
Adding website title.
Language selection.
After filling out the form you click on install. It must take a few minutes and finally, your subdomain will be listed there.
The thing to remember is creating a subdomain needs an entry on your DNS zone and takes 24 hours for activation.
2) Create a Subdomain via Your DNS Zone
Hostinger offers two options for creating a subdomain. The first method I have mentioned above briefly and the second one is via DNS zone editor. For this scroll down to your CPanel dashboard and select DNS zone editor.
Fill in all the required criteria for a new DNS record.
Type: Selecting A from the menu as a subdomain using A record for pointing out an IP address.
Naming: Change it as you intended to change, for example, filling in ''gallery" for creating gallery.yourdomain.com.
Pointing to: Filling into the IP address of your hosting account.
TTL: (time to live)this setting tells you how long DNS will resolve cache information before requesting a new one. the default setting is 14,400.seconds.
When all this is done you may now hit Add card then u may see below the manage DNS record.
Here under your new domain, you will also find a name (canonical name)it is recorded for the subdomain "WWW" unlike A record which is pointing to the subdomain. for example, if someone types the URL www.technopixelss.com it will direct to yourwebsite.com instead of showing a page error.
After completing the process it will take approximately 24 hours for activation.
Subdomain vs. Subdirectory
It is quite a similar process to subdomain, subdirectory basically used for organizing your content in a better way, First clearly know what difference lies in them.
Subdomain: blog yourdomain.com
Subdirectory: yourdomain.com/blog
Keep in mind a subdomain's purpose is creating another website for data files you completely accessed and redesigning the interface without affecting the main site and domain name. The subdirectory is considered the part of the website and is a subfolder of the site's file. The best example of a subdomain is support.zyro.com and learns.fiverr.com
Subdomain vs subdirectory for SEO
It has been becoming popping up the debate whether subdomains and subdirectories are performing effectively for SEO. This is actually because search engine especially Google treats subdomains as a separate territory from the original site, so the ranking of it will be done differently. These subdirectories help with crawling and search engine consideration in finding as this section is also a part of the main site. It is enviable to use the best setup that may not create problems and run a long time perfectly.
Conclusion
It is obviously clear that subdomains are part of the main domain and are specifically used for inter-sectioning the site content. You may also create a subdomain for the test site for offering unique and exclusive content. This can also help publish content in multiple languages for a better user experience. The domain can be created through the DNS zone and via CPanel by following easy steps. You own the choice of creating multiple domains on the main site under the main demand and it entirely depends on the hosting provider's capacity. Keep in mind subdomains are slightly different from subdirectories.
For Any suggestions write them down in a comment section or visit the contact us page.